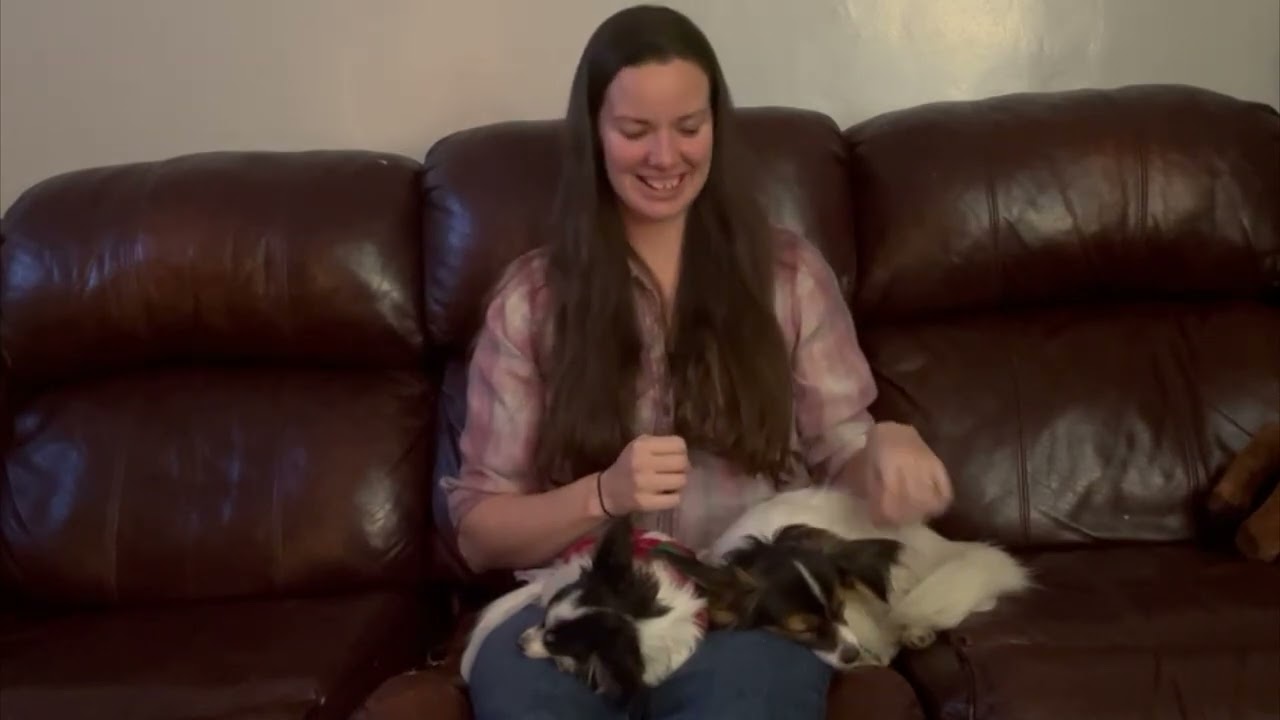 Video Testimonial from Cassie Lavely
"Eric understands the handler/dog relationship from the dog's point of view and is able to explain to the handler how to get better performances from the dog. He teaches people how to "speak" to the dog in a language the dog can understand!" - Margery Good of
Goodspice Kennel
"Through Eric's workshops I have been able to train an extremely head strong dog to #1 Toy Fox Terrier. I love the fact that his training methods focus on building a strong connection, earning the trust & respect of your dog, and having fun! My favorite part of the 7-day training is the breed standard study. He teaches you to research your breed and learn more about it than ANYONE else. "Dig Deep! Chase rabbit holes! Ask Why?" To me, this information is invaluable in and out of the show ring! Thank you, Eric, for passing on your knowledge, love, and passion of dogs to others!"
"After 50 years in the dog show sport and running a kennel with a grooming shop I thought I had seen everything for the upkeep and showing of dogs. That is until I met Eric Salas and the amazing products that he and the companies he works with. I am very proud to know a man who spends most of his time giving back to the sport by teaching anyone who asks and awed by the amazing tools and fantastic products he has come up with. I use his shampoos in my grooming business and his knives, combs, and brushes on my show dogs. His texture crystals are all he says they are. Thank you all for listening to me and thank you Eric for what you do." - Daniel Sackos of
Geordan Irish Terriers
"I'd been showing dogs on and off for the better part of 20 years with moderate success, when a friend and successful pro handler commented about how lucky the attendees were to be able to go to one of Eric's workshops. My interest was piqued, so I signed up for a 4 day Master Class in GA in November 2021.
I discovered I was a pet owner trying to take my "pets" into the show ring when we were all really unprepared to be there. My relationship with my dogs was one where we enjoyed each other's company, but on their terms, not mine. Once those relationships were fixed, not only was my house more peaceful, we became more successful in the show ring. The adult dog I took to the Master Class was ranked in the top 10 NOHS Brittanys the following year, and the puppy I took finished her CH title in just a few weekends and is nearly done with her GCH, and is now showing only occasionally while she matures.
When Eric scheduled a 7 day workshop close to my home, I immediately signed up. There was so much information given at the Master Class, I thought I would definitely benefit from another class to get to the next level.
2 months before our 2022 National Specialty, I brought my son's 17 month old puppy, Apollo, home to stay with me to work on getting him ready to show. I immediately started working with him using Eric's methods. The 2 weekends before our National Specialty, Apollo won the breed 3 out of 4 shows, and picked up his first major.
A year after my first class with Eric, nearly to the day, I made the nearly 1000 mile trek to Arkansas for our National Specialty with 4 dogs. Feather, my 17 month old puppy, made the cut in a large sweeps class, and then 2 cuts in the BOB ring. Forrest, my 11 yr. old veteran, won his sweeps class over a 2x National BOB winner. River, Apollo's dam and a REALLY tough cookie, was given an Award of Merit, and Apollo went Winners Dog from a very competitive bred by exhibitor class. I was even approached by other exhibitors who commented on how much my handling had improved and how good the dogs looked.
Eric provides a roadmap to success and the support after his classes to succeed. None of it is a quick fix, and I have so much more to do with Apollo and Feather for them to truly be ready, but if you follow the map that Eric provides and put the time in, the results are undeniable. I'm sure I'll be attending another Eric Salas Workshop in the future to continue to improve my training and handling skills." - Karen Schramm of
Woodland Brittanys
"Eric Salas' way of showing dogs is the contrary of everything I have learnt in the past years from different trainers. And this is what it makes both: a challenge for you and a pleasure for the dog. You must work against bad habits. You free the dog from pressure. You will have fun in the ring with your dog (again).
Hand communication between you and the dog is the basis for success. The smarter the dog, the more communication you need. Otherwise, the dog decides himself in the ring. The video footage and high-speed photography Eric uses in his workshops, is unique for this kind of training. It cannot be fooled. You see proof if you like it or not.
When you attend a workshop, you will see transformations in dogs that are nearly unbelievable. Dogs jumping, barking, pulling... sometimes everything in one dog. But as soon as they get the "head straight", these problems disappear, and the dog can show its full potential. You just must be consistent. Moreover, this way of showing keeps the spark in the dog, it keeps the attitude and the temperament. It doesn't "break" the dog. And this is so important!
I have received so many comments about my handling skills since I show my Rhodesian Ridgeback with Erics "head straight" method. I have attended workshops and private lessons and am now happy to be a certified Head Straight Trainer by myself. We went from winning the class to winning the group and even placements in Best In Show within one year of Training.
You have a dog that has a great potential, and you would like to show him by yourself? Look on the www.K9-World.com website for a workshop. Being part of this community is the best that can happen to you and your future Best In Show dog."
"I met Eric at dog shows and my puppy Jade was giving me fits. He said let me fix you lol! This picture is of Jades Granddaughter Fern who I've needed Eric's help most of all. He claims she is perfect. She is ICKC's 2020 Top Dog. Had to tap into the knowledge I've gained from Eric this week with her sister Patty who came to us after losing her owner to Covid. Patty just won 3 Best In Shows and 3 Reserve Best In Shows at some of the all-time largest ICKC shows this past weekend." - Sandi McDonald
"As a newcomer to the dog show world, I wasn't happy with my results. I enrolled in several of Eric's workshops and learned about show handling. His knowledge of animal behavior is unparalleled. I was a participant in his first Masterclass and that's where it all clicked. I was taught to solve problems on my own and to enjoy the joy of training with my dog." - Veronica Scribano
"Eric Salas's one on one private classes are revolutionary. They have given me much more confidence to handle my dog in the ring. His individual sessions work like magic! I have learned how to keep my dog's "head straight" and have improved her free stack, ground stack, gait, and presentation. Mr. Salas has helped me become a better handler by improving my poise, posture, and communication with my dogs through hand signals and body language. I wouldn't be where I am without him. Eric Salas's workshops have helped me and improved my handling tremendously in countless ways. Not only did he teach me to understand and memorize my standard better so I could therefore understand my dog, but he taught me to build a better connection by using my hands, vocals, and body language to communicate. When I first heard of these methods, I knew it was going to be a challenge for me to learn, but when Eric showed me videos of previous beginners with their dogs practicing the exercises, I thought I was seeing the impossible and unbelievable. With a motion of the palm of the handler's hand, the dog would move or gait in that direction. Every time I would visit him, we would tackle a new challenge and add even more skills to my repertoire. Whether it be his seminars or his online training, Eric's help is amazing. About 4 years later after practicing his techniques, my dog Olive not only listens to me in a snap, but she thinks it's fun. Whenever I pick up the chain and put it on her, it's like flipping a switch, night, and day. Eric always says, "Whatever you feel, your dog feels, so if you're confident and happy with the way you are performing with your dog, they will feel the same thing." He has truly made all the difference and is the number one reason to my successes over the past 4 years, including qualifying for Westminster as a junior in 2019, 2020, 2021, and 2022, and becoming the first bulldog to make the Junior Showmanship finals in 2020! I have also reached the achievement to become the Number 1 Bulldog Junior Handler in the Nation for the last 4 years! Additionally, Eric has helped me reach Best of Breed wins, along with National Specialty wins. His workshop had improved my career incredibly. Thank you, Eric Salas." - Brielle Villarreal
"I am always open to new methods and learning new ways to work with our dogs. When my friend Dawn Shaffett said we need to do this Eric Salas Handling clinic in Olympia WA, I said sure. Now, we are proud to say the seminar helped in so many ways. Our boy Dizneec (GCH Cobeauche When You Wish Upon A Star) when on to win Owner Handled Best In Show and All Breed Group 2 at Vancouver KC in 2016. Now being handled by Luke and Rowan Baggenstos, he is now #1 Japanese Chin All Breed." - R Mariko Saum
"I have attended three of the 7-day seminars with Eric, and I have learned new things each time! It is amazing how deep he dives into the "why" of dog structure elements and how the breeds were designed for different tasks. These are not passive training classes; he makes you do the research which is very valuable! Eric challenges you to be the best you can be! Your dog will love it! Your bond with your dog will grow! There is so much to learn from Eric and just not enough time!!! Thank you, Eric, for taking the time and sharing your expertise in dog training, showing, grooming, nutrition, exercising, and the history of these wonderful breeds" - Debbie Milks
"In the seven-day workshop, Eric presented, clear and concise presentation/instruction and demonstrations. Simply delivered, repeated, and reviewed with a lot of fun to boot! The in-class exercises followed each presentation helping us to anchor the training concepts. Complicated steps were outlined well giving us a process to follow. True to how a great teach/trainer works, Eric didn't just provide the answers to our questions - he helped us puzzle out our questions so that we could come up with the answers ourselves. Picture: My question to Eric was, "Is my dog competitive enough to show?" Eric made extra time for us and helped me to learn how to assess my pup using the AKC Leonberger breed standard. I learned in one short extra session what some people may take years to figure out!" - Esther Louie
"Eric Salas Workshops are like no other! While my dog and I are still beginners, we are set on the right path because of these workshops. Every lesson, every technique comes with a purpose to help you and your dog succeed. Not only that, but there are also plenty of opportunities to learn about your breed and apply that knowledge to your breeding program. And they are so much fun! I guarantee you these workshops are better than Disney World!" - Ashlyn Jackson and Heston
"After SKYE was handled by the pros for two years without any success, I took over the reigns as OHS. First stop was Eric Salas Workshop in Placerville May 2021. Eric predicted I would beat those pros in the ring. Little did I know it would be my second AKC show in Santa Barbara. We earned Skye's first points that day. Skye and I thank you Eric." - Catherine Upton of
CU2 Aussies
"I first found Eric on YouTube and at first it was my dogs need training- that couldn't be farther from the truth, it's me that needs the training. You watch and think "well that's easy" (insert eye roll) I really struggle with stage fright and anxiety. So, after watching video after video, I decided to dip my toes in for a 2-day workshop and then a 7 day and still watching videos. And then my 7mos old Löwchen at his first show weekend on the 2nd day went Group 2 In OH. This is a type of lifestyle it's not a do it once or twice and expect the same results. You work hard and you listen, and you do it every day and it pays off, not just in ribbons but in the bond you create with your dog and the friends you meet along the way. I can't wait for another workshop.
Thank you, Eric Salas, for your heart and soul." - Theresa Hubble
"My first Show Dog
After participating in my third dog show weekend with my 12-month-old Great Dane ("Josie") I walked out of the ring feeling pretty darn discouraged. I could tell the judge really liked my dog — she watched Josie intently as she had all the dogs run around the ring together over and over. She gave us ample time to stack our dogs, however, just as I had Josie's feet in position Josie, she would decide to move then the judge would ask to repeat the go around. We did this three times. I honestly felt like she was trying to give me the opportunity to stack my dog correctly. I never expected to win a ribbon (although a ribbon would have been nice) but I did want to walk out of the ring feeling as though I had improved in some way, but I hadn't — I felt discouraged.
Soon as I got back to my benching, I called my friend and told her I was thinking about hiring a professional handler for Josie. I told her what frustrated me most was the feeling that I was holding my dog back because I lacked the skills to show her properly. I had taken a handling class and learnt the basics: proper etiquette, gaiting patterns, stacking, etc. I knew what to do, just not how to get there. I could only get Josie to stack for a little more than a few seconds and I knew her gait needed improvement. My friend, being an avid dog trainer, reminded me that the whole reason I began dog showing was for the enjoyment doing things with my dog and that a win would mean so much more to me if I earned it with my dog. Rather than hiring a handler, she suggested that I attend Eric's handling seminar the following weekend in Vernon, BC. I took a day to think about it, weighing if I thought the long drive (14 hours) was worth what I thought I would take from the seminar before making the decision to give it a try.
Eric's seminar was so informative. It was a little intimidating at first, as it looked like I was the least experienced person there but Eric and everyone there were so welcoming. The first half of the day was spent listening to Eric talk and taking notes… lots of notes. There was information on animal behavior, human behavior, and the effects of our behaviors on dogs before he even began to explain his philosophies for in the ring. After lunch he had us practice. When it was my turn, Josie pulled me on the down and back as I raced to keep up. When Eric tried to handle Josie, she threw a tantrum at which point Eric said that I might not be able to continue as Josie was not ready. He suggested I move away from the group and practice his "head straight" technique for a bit. Even after a mere twenty minutes the difference was amazing — not only did she stack better but she had stopped pulling me around the ring. It was all since Eric had given me the skills to lead her better — Josie was still the same dog; it was me that changed.
The differences between Josie and I showing before Eric's seminar and after are like night and day. I enter the ring with confidence now and don't worry about Josie "misbehaving" in the ring; she stays stacked and her gait is fluid now that I've learnt how her communicate with her on a loose leash. I highly recommend everyone to take the seminar no matter how much experience you have showing dogs. What I obtained there fully exceeded my expectations. I can't thank Eric enough for the encouragement, confidence and skills he's given me and I can't wait for him to come back to Canada.
I know I've thanked you so much already but really… THANK YOU! I already had her signed up for another show next weekend that I'm going to have to bump her up in — I wasn't expecting to finish her last weekend — but after that we're going to be taking a bit of a break to condition her while she matures and fills out a little more." - Melissa
I learned so much at the 7-day workshop! I brought my Toller puppy and took the knowledge from the workshop and applied it to my 4-year-old GCH Keeshond.
He had a major melt down right before going into the ring. I didn't hit the panic button, kept my cool, didn't reinforce shaking Keeshond but got his focus back on a happy me!
Result - Group 2 NOHS - Good job, Bernie (GCH CH Summerwind's Burn Baby Burn)
- Patti Helmig
I met Eric over 15 years ago when he started handling a naughty, beautiful chow chow for my best friend and then mentor. He was able to get so much cooperation out of that little dog, when many other handlers had failed.
Eric started conducting some handling classes at my friend's facility and I decided that I wanted to see more.
His techniques were focusing a lot on our body language and how it affects our dogs. He had such a common sense, dog friendly, easy to understand approach that anybody could succeed. After attending with my own dogs for a while, two of my kids decided that they wanted to try their hand at this sport. One of them was a teenage hockey player while the other was 7-year-old ballerina. Two very different personalities and learning styles!
Eric was able to keep them both very interested and excited about the dog show game. He offered so much encouragement that they loved attending his classes. Many of the others that they had attended over the years focused on everything that they were doing wrong rather than explaining what needed to improve and then showing them why.
I have had the privilege of hosting several of Eric's seminars and private lessons at my facility. These seminars are very professionally presented with a unique approach. Each attendee reviews videos of themselves and their dog, showing how much, they have progressed from the beginning to the end of the lesson.
Eric uses a very relaxed style of hands-on teaching with a lot of information included through video excerpts and power point presentations, as well as lots of humor and fun thrown in.
We have also had the pleasure of having Eric fill in at our drop-in conformation class. The classes were again very well attended and lots of information was received by all. Several junior/4H kids were there, and they received very clear instruction on what they needed to do to succeed. He even had a mock show at the end of the class and one of the 4H kids took BIS!
As a facility owner and having attended several of Eric's seminars, I can say that I have enjoyed every one of them and leave with new info every time. I have watched people that have years of experience in dogs (and done very well) as well as novice handlers that never even thought that they could show a dog, come away with the ability and the knowledge of what they need to do to win. My now 16-year-old daughter has improved so much, especially in confidence since she has attended Eric's classes and she is always excited to attend more. Eric has become one of her mentors and friends. It is always funny to hear her help some of her 4H friend with some of the techniques that Eric has helped her with. "Head Straight", "Loose Lead" will always be phrases that she will remember!
- Connie Skinner
Owner/Head trainer at Mind Your Manners Dog Training and Daycare in Vancouver, WA.
My Experience with Eric Salas
PROBLEM: Maggie, Netherscot's Nun in Charge
Her name was my first mistake. She is no "Nun" and she is in CHARGE. 2nd mistake: a baby tooth pulled by my beloved vet--no anesthesia. Screamed like She had encountered Freddy on Elm Street! Oh God was she mad. Result: she would not let anyone get near her mouth! Taking out Judges left and right.
I was scared to show her.
HOW I FOUND REDEMPTION
Wanted: An intervention, better yet an Exorcism! Clearly the best choice. I prayed and then went to my search engine and found the answer on You Tube. A Father Salas was performing miracles!
Website said He would walk Swim or hitchhike to help.
WHEN WE FIRST TALKED
"Just pick up the phone and call"
I did.
Yikes! He answered the phone! I told him I needed his help ASAP.
He was flying to Miami next week!
Just 2 hours down the Florida Turnpike from the home of the Scottish Cloistered Order:
Excellent! Meet you on Tuesday. Could I send him a picture of the possessed patient?
Done.
THE MEETING
"Set her up on the table please."
Really?
Eric Salas reached out and....EXAMINED her mouth! A perfect angel.
Figures.
This is a piece of cake He said.... "Head straight!"
Unbelievable. Love and devotion at first sight
DAY ONE
Eric Salas arrives with his camera and crew also a computer for instant replay. We are renting space in a dog training center for the next three days. Today we begin by watching some video's such as "Dogs Decoded" and a discussion on Nurture vs. Nature. Excellent stuff.
Do not "Baby your dog" you will lose the dog's respect.
Do not use the word NO. We practiced the "growl" for correction.
"There is no problem here" (referring to Maggie) You (me) are!
Eric demonstrated how to place her head in place to control her on the table during the Judges examination.
Never create eye contact while training the dog. Remember--Correct with a growl sound
The best part: The camera crew films we work for 15 minutes and then sit down and watch the tape.
EXCELLENT teaching tools!!!
Hand signals to turn the dog--don't watch the dog!!! Respect and Trust!
DAY TWO
Know your Standard. Use colored highlighters: grooming green, Presentation Pink, Structure Yellow.
What it takes to "Special" a dog. Champion Vs. Special?
Finding the right "stuff" to inspire/motivate your dog in the ring: The right bait, right toy, Right smells etc. Get creative.
More work in the ring and watching the videos.
Don't watch the Dog!
The 5 opportunities to "show" your dog to the judge. On entry, during initial presentation, Go around, On the Table. Up and back.
Earning Respect and trust
Bombproofing with practice: Know all the patterns the judge may use in the ring.
Day Three
Nutrition
Conditioning
Grooming!! Need lots of time to perfect that!
Have 5 different ways to get your dog to STACK (Homework)
More work in the ring.
HEAD STRAIGHT!
WE SAY GOOD-BY!
There are not enough words to really tell you how I felt about how much this time meant to me. Maggie and I showed a couple of weeks later at the Ocala shows and she received 2 three-point Majors.
Thank you, Eric Salas!
- Judy Makem
Dear Eric and friends.
I really think that the workshop helped me not just to learn how to work with my dogs and to know the language that they understand; and so much more wise things that you taught us.
The workshop principally made me know myself, know that I can do things that I never thought I could do.
Made me a better human being because you teach things that you can apply not just to training dogs, but to your life.
Help me to be happy and enjoy what I am doing. Slow my word down, smile, have a good time.
Help me on focus on the solution ... not the problem. That it doesn't matter what my dogs do....it is what I do that counts.
Help me prove them that I am the leader....and to understand that they do not want to be in charge.
Help me to understand that I need to be the cookie and that you have to work hard because there is not magic. Just hard work.
Understand that you have to do small things to see success.
And that pressure is something that you feel when you do not know what you are doing!!!.
Ahhh.....and shake the haaaaaannnd, do not puuuuull the lead...do not look at the dooooogggg!!!😁. Well I learned that in the hard way!!!!. But I did learn it...hahaha believe me!!!🔥🐕
Let me tell you that my pack is calm they learned to wait for their food and eat when I tell them too.
Started the fit paws and they are doing fine.
As you told us it takes time and work.
#EricSalasWorkshops #EricSalas.
I met wonderful persons at the workshop and learn that everybody is different and special in their own special and perfect way.
Miss you all, I wish the best to all of you and I see you soon.
Have a great holiday and Feliz Navidad y pròspero 2020. Un abrazo.
- Pam/Ecuador